Gerda: A Flame in Winter Special Boxed Edition Confirmed for November Launch 
Captivating World War II narrative adventure launching on Nintendo Switch across European retail stores.  

Madrid, Spain - 15th September 2023. Publisher Meridiem Games has today confirmed that the special boxed Resistance Edition of the facinating narrative RPG-lite adventure title Gerda: A Flame in Winter will launch for Nintendo Switch on 23rd November 2023. Developed by Bird Island and published by DON'T NOD, Gerda A Flame in Winter breaks with the conventions of the videogame world by presenting the unique and captivating World War II story of Gerda a young nurse who is torn between her community and her desperate quest to save her husband. 
The Gerda: A Flame in Winter Resistance Edition will be published and distributed by Meridiem Games across European retail stores this autumn. This special boxed edition will include a specially designed sleeve and will contain two unique art postcards and an exclusive bookmark. 
 About Gerda: A Flame in Winter 
February 1945. The war is almost over, but your fight is about to begin. You play as Gerda Larsen, a young nurse who is torn between her community and her desperate quest to save her husband, Anders. Many other lives will come to depend on your decisions. 
Gerda's journey will involve moral dilemmas, difficult conversations, and sticky situations. It's a dangerous world, and you must help her adapt to it with the choices you make, which always have both short- and long-term consequences.  
If you give away precious resources to somebody who needs them now, will you come to regret it later? Will there be consequences if you, as a nurse, help a person who is suffering even though they may later cause suffering to others? 
A story-driven RPG-lite - Make the most of what you have: your personality points, your allegiances, and your resources. Your relationship with people and factions will determine how your story unfolds. Level up Gerda's mental skills by reflecting on her experiences in her diary to gain personality skill points. Use these skills during events and conversations to unlock special actions, gain others' trust, or keep them from suspecting you.
Make your own history - You can choose where to explore and when – but do so wisely, as people move around and events can be time sensitive. As you investigate and make progress, your choices will send you down many different narrative paths. Will you do whatever it takes to save Anders, or will you cling fiercely to your morals? Your actions will lead to several poignant conclusions and change the fate of your community in Gerda: A Flame in Winter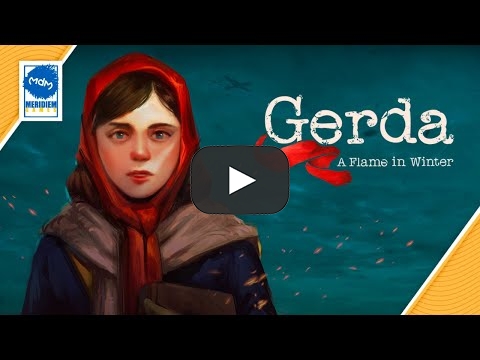 Gerda: A Flame in Winter will launch as a special boxed Resistance Edition for Nintendo Switch on 23rd November 2023 across European specialist stores. For more information, please visit http://www.meridiem-games.com/en 
About Meridiem Games
Meridiem Games is an independent video game publisher and distributor for all platforms. The entire Meridiem Games team is focused on meeting the demand of players who are fond of physical editions, titles such as Fahrenheit 15Th Anniversary PS4, KUNAI Day One Edition NSW, Daymare: 1998 Black Edition PS4, Pang Adventures Buster Edition PS4 / NSW, etc. They have come out in their physical edition thanks to Meridiem Games.  www.meridiem-games.com 
About DON'T NOD
DON'T NOD is an independent French publisher and developer, based in Paris and Montreal, creating original narrative games in the adventure (Life is StrangeTM, Tell Me WhyTM, Twin MirrorTM), RPG (VampyrTM), and action (Remember MeTM) genres. The studio is internationally renowned for unique narrative experiences with engaging stories and characters and has worked with industry leading publishers: Square Enix, Microsoft, Bandai Namco Entertainment, Focus Entertainment, and Capcom. DON'T NOD creates and publishes its own IPs developed in-house, as well as using its knowledge and experience to collaborate with third-party developers whose editorial visions parallel the company's own.   
Step into the studio's immersive and innovative universe at dont-nod.com    
DON'T NOD (ISIN code: FR0013331212 - ALDNE) is listed on Euronext Growth Paris