Loddlenaut breaks the surface on November 16
Charity efforts detailed in the countdown to the wholesome ocean cleanup adventure
 
Austin, Texas – World Cleanup Day, 16 September 2023: Developer Moon Lagoon and publisher Secret Mode can today reveal a November 16, 2023 launch date for Loddlenaut, the cozy pollution-cleaning adventure awash with creature-raising and survival systems. Loddlenaut is launching on Steam for PC and Mac.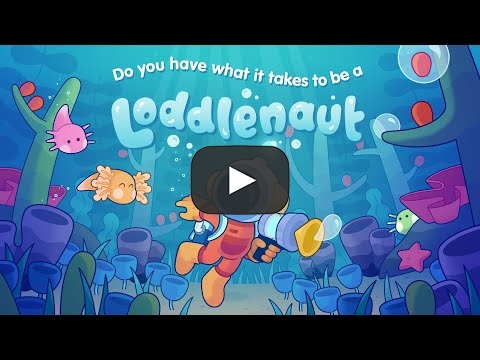 Loddlenaut casts players as an interstellar custodian sent to a polluted ocean planet. While cleaning up the mess, players will need to recycle trash to build and upgrade powerful purification tools.
Loddle creatures respond to your ocean restoration efforts with affection and soon you'll be surrounded with new best friends to name, feed, pet, communicate with, and even evolve.
Loddlenaut started out as a NYU Game Center thesis project in 2019 and has been in full development as a commercial release since May 2020. A demo featuring the Flotsam Flats biome – and several loddle friends-in-waiting – is available on Steam right now.
Inspired by Loddlenaut's ocean cleanup messaging, publisher Secret Mode and marine charity Whale and Dolphin Conservation (WDC) teamed up with gaming charity SpecialEffect in July to host a beach clean during games industry event Develop:Brighton. During the beach clean on Brighton's beach, more than 40 members of the games industry collected over 1,500 items of litter, including 203 loose pieces of plastic. Their endeavours were captured in the following video.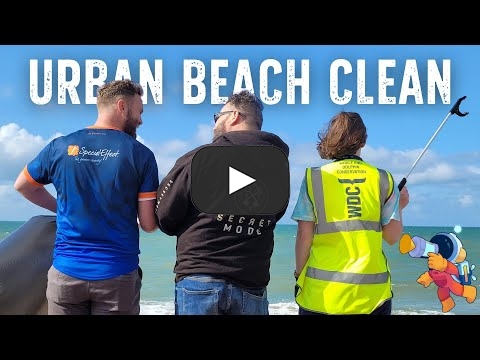 "It was an honour to tidy a small section of the beach, which looked pristine to start with but as we looked further, we noticed so many small items of trash," says James Schall, WDC Ambassador and VP of publishing strategy at Secret Mode.  "It was quite the eye opener that most of the items we found were small but so numerous. In our game Loddlenaut, the player arrives on an alien world and embarks on a mission to clean up the otherworldly ocean – hopefully it will inspire our players to be super careful with how we use and throw away items, especially ones that will be with us for years!"
"It was amazing to see the games industry come together so eagerly to make a positive impact in the ocean. 95% of the plastic pollution found in the ocean comes directly from our towns and cities, and over time this plastic breaks down into smaller fragments due to exposure to the sun, wind and waves," says Sally Ward, Digital Partnerships Manager. "It never really disappears though; the pieces just get smaller and smaller, becoming microplastics, causing great harm to whales and dolphins and all sea life. Enabling people to make a difference in this way was really inspiring and it was also a lot of fun!"
Secret Mode is sharing more information about its and Loddlenaut's ongoing charity partnership with WDC, including additional Urban Beach Cleans and volunteer work at the WDC Scottish Dolphin Centre, on its social channels.
About Loddlenaut 
Loddlenaut is a creature-raising survival game that takes place on an ocean planet. Play as an interstellar custodian who is sent to clean up an abandoned planet polluted by a mega-corporation. Befriend local axolotl-like creatures and explore sunken corporate ruins as you revive the planet's lush ecosystems. 
???? Explore an open-world alien planet 
???? Raise aquatic critters called "loddles" that grow based on what they eat 
???? Clean up icky goop and floating debris with your bubble gun 
???? Unlock special gadgets to clean different types of ocean pollution 
????️ Recycle collected trash to craft useful items and upgrades
Loddlenaut launches on Steam for PC and Mac on November 16, 2023.
Loddlenaut's playable demo is available now on Steam.
About Secret Mode
Greetings from The Bunker! Secret Mode is the publishing wing of the award-winning Sumo Group Ltd. Our goal is to publish internally developed projects from any of our 17 game development studios across the UK, US, Europe, and India, as well as third party independent game developers. We believe that games are for everyone, and that creativity has no limits. We believe quality and fun are everything. 
About Moon Lagoon 
Moon Lagoon is a two-person indie game studio based in Austin, TX.  
Loddlenaut began as a NYU Game Center thesis project by Ricardo Escobar and Jin-Young Sohn in August 2019. After graduating in May 2020 and with support from the Alfred P. Sloan Foundation, they formed Moon Lagoon, LLC to transform their student project into a full commercial release. 
About Whale and Dolphin Conservation 
WDC, Whale and Dolphin Conservation is the leading global charity dedicated to the protection of whales and dolphins. Whales and dolphins are our allies in the fight against the climate and biodiversity crises and WDC works across the globe to protect these intelligent and sentient creatures from the many threats they face like hunting and whaling, pollution, accidental entanglement and captivity. WDC's mission is a world where every whale and dolphin is safe and free.